Original Pillow & Protector Set
Level up your bed with two super supportive Original Pillows, two waterproof Pillow Protectors, and one Mattress Protector.

Great For:  Firm Pillow Lovers, Back & Side Sleepers, Snorers, Toss & Turners, Clean Freaks
Free Shipping + Free Returns Learn More
Original Pillow & Protector Set
Level up your bed with two super supportive Original Pillows, two waterproof Pillow Protectors, and one Mattress Protector.

Great For:  Firm Pillow Lovers, Back & Side Sleepers, Snorers, Toss & Turners, Clean Freaks
Free Shipping + Free Returns Learn More
The Internet's Favorite Pillow
Enjoy sweet dreams on one of the highest rated pillows in the world. Adjust the fill to your desired comfort level to keep your neck and spine aligned.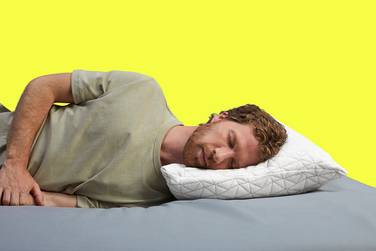 Medium-firm Fill

Breathable

Adjustable

Hypoallergenic

Super Supportive

Washable
The Original
Diligently designed to align your spine while keeping you ultra cozy. Adjust the fill to your desired comfort level and wake up rested and refreshed.
The Pillow Protector
Our washable, comfortable, and 100% waterproof pillow protector keeps germs, dirt, dust, and liquids from ruining your most prized bedtime possession.
The Mattress Protector
Defends your mattress from sweat, incontinence, allergens, pet urine, and any other fluids—while being totally comfortable and not at all plastic-y—so you can keep it clean and extend your mattress's lifespan.
You Might Also Like
Two of our groundbreaking adjustable pillows, made to align your spine and deliver unparalleled comfort.

Protect your investment from stains, spills, and all liquid damage without sacrificing comfort. We've got your bed covered with our 100% waterproof Mattress Protector.

Prolong the life of your beloved pillow by keeping dust, bacteria, and liquid out.
Original Pillow & Protector Set